The Harvard Business Review (HBR) just released its prestigious ranking of the 100 best-performing CEOs in the world. The top CEO in the S&P Global 1200 is Jensen Huang, CEO of the U.S. technology company NVIDIA. The top ten CEOs are from companies including Nvidia, Salesforce.com, Kering, Texas Instruments, Iberdrola, Adobe, Mastercard, KBC, Microsoft and LVMH. You can see the full list here.
HBR notes that they made an important change in methodology this year. "Since 2015 our ranking has been based not only on financial performance but also on environmental, social, and governance (ESG)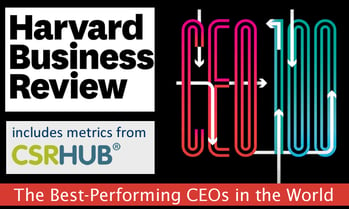 ratings. For the past four years we've weighted ESG scores to account for 20% of each CEO's final ranking. This year we tweaked the formula, increasing that share to 30%. The shift reflects the fact that a rapidly growing number of funds and individuals now focus on far more than bottom-line metrics when they make investment decisions. One sign of this changing sensibility: In August 2019, 181 U.S. CEOs who are members of the Business Roundtable signed a statement affirming that the purpose of a corporation is to serve not just shareholders but four other groups of stakeholders: employees, customers, suppliers, and communities."
This change in weighting significantly impacted ranking results. For example, Amazon's CEO Jeff Bezos, a top CEO every year since 2014, fell off the list owing to relatively low ESG scores. "The incorporation of 30% ESG data signals a growing shift of perception in what matters to be the best," said Cynthia Figge, CEO and Cofounder of CSRHub. "We are honored to have CSRHub's ESG (environment, social, governance) metrics included in the methodology for the fourth year in a row, and now determine 15% of the HBR Ranking of the World's Best-Performing CEOs."
You can see the full report available in Harvard Business Review Magazine, found here.
To learn more about CSRHub, our ESG/CSR metrics or how you can improve your ESG scores, contact us here.


---
CSRHub offers one of the world's broadest and most consistent set of Environment, Social, and Governance (ESG) ratings, covering 18,000 companies. Its patented Big Data algorithm combines millions of data points on ESG performance from hundreds of sources, including leading ESG analyst raters, to produce consensus scores on all aspects of corporate social responsibility and sustainability. CSRHub ratings can be used to drive corporate, investor and consumer decisions. CSRHub has been a Certified B Corporation since November of 2010. For more information, visit www.csrhub.com.